| | | |
| --- | --- | --- |
| | The Sir Edmund Hillary Mountain Legacy Medal | |
2010 Hillary Medalist: Scott MacLennan
All Medalists

2010 Presentation

Schmitz & Hawley (2003)

Byers (2006)

Freake (2008)

Ang Rita (2011)

Bisht (2013)

Ives (2015)

Portocarrero (2017)

On November 17, 2010, Scott MacLennan, founder and Executive Director of The Mountain Fund, received the 2010 Sir Edmund Hillary Mountain Legacy Medal at a formal dinner hosted by the School of Global Studies, Social Science and Planning of the Royal Melbourne Institute of Technology University. Presentation event photo gallery

MacLennan's work in Nepal includes the rehabilitation of two monasteries, the staffing of a public school, and the foundation of school for HIV-affected children, two clinics and a training hospital. He has set up voluntourism programs, and mentored new NGOs around the world. MacLennan is currently engaged in the start-up of a new Leadership Program for Nepali girls and women. He is truly a philanthropist in the mould of Sir Edmund Hillary.

Scott MacLennan in Nepal. Courtesy of The Mountain Fund.

As chartered by Sir Edmund Hillary in 2003, the Hillary Medal is granted "for remarkable service in the conservation of culture and nature in mountainous regions." While this year's pool of applicants was both extraordinarily strong and also so diverse as to defy objective comparisons, Scott MacLennan's achievements impressed our entire Selection Committee as unquestionably worthy of recognition and emulation. Here is a sampling of the comments that emerged from our deliberations:

Healthcare is the number one priority for any community. Delivering medical aid to people living in poor, remote areas is a challenging and ongoing commitment. Scott MacLennan has done an outstanding job not only in providing health care but also evolving his vision to include training and education for local people. The list of his achievements is incredible. Having been involved with many healthcare projects myself, I understand how the solution of one problem can lead to a greater understanding of other, underlying problems, I am impressed by Scott's ability to meet each new need with an intelligent, considered response.
The creation of a volunteer pool spreads awareness of the realities of life in poor regions, and his work in Kathmandu with HIV afflicted people is very important and necessary.
MacLennan's work is now quite international, with projects in Peru, El Salvador, and Pakistan, as well as Nepal.
The ability to inspire is not nearly so important as the willingness to mentor, and Scott has achieved remarkably in both respects.

More Information

Award-winning travel blog WanderingEducators.com has published three articles on Scott MacLennan and his work:






Left to right: Peter Hillary, Dr. Beau Beza (Chair of Hillary Medal Selection Committee), Sue Badyari (CEO of World Expeditions), 2010 Hillary Medal winner Scott MacLennan (Director of Mountain Fund)

Sponsor:


World Expeditions, a leader in small-group eco-adventures, donated Scott MacLennan's roundtrip ticket from Kathmandu to Melbourne so that he could attend the presentation ceremony.
Scott MacLennan's Work
Thank you for inviting me to tell you my story.

I began work in the Rasuwa District of Nepal ten years ago. Rasuwa lies on the northern border of the Madhya Manchal (central district). It borders on Tibet, and most of the populace is Tamang, an ethnic group whose name means "horse warrior. The most famous holy lake of Nepal, Gosainkunda (4380m.a.s.l.), lies in this district, as do the popular Langtang and Helambu trekking routes; in terms of household wealth, Rasuwa ranks 65th out of Nepal's 75 districts.

It is said that the great god Shiva gouged out Lake Gosainkunda with his trishul (trident) as he was flailing about searching for cold water after selflessly swallowing the Halahala poison that threatened to destroy all of creation. The district's need for medical assistance was still urgent when I first visited.

At that time there was one small clinic serving the villages of Gatlang, Goljung, Chilme, Thambuchet and Tatopani. For five years, I supported this clinic and further developed it by adding a modern medical laboratory.

Next I went to the village of Thulo Syabru, and, at their request, opened another clinic. That clinic has now been in operation about four years. The village recently built a new school building and were able to add grades 7 and 8. The government was unable to provide a teacher for that class, so my NGO, The Mountain Fund, is covering the salary.

We have also recently helped to repair Manche Gompa, the nearby monastery which was built 350 years ago by a single monk over the course of twelve years, but had fallen into heartbreaking disrepair. Substantially restored, the gompa is back in service for communities traditional ceremonies and spiritual protection. We hope to undertake restoration of an even older facility near Nagthali next year... if funds become available.


Above: Rasuwa district in Nepal
Below: Gosainkunda Lake


A couple of years ago, the parliamentary representative of Rasuwa district invited me to partner with him in the establishment of a hospital. In the community of Kalikastan, there was a property that had been used as a hospital before the ten-year civil war in Nepal. We obtained the property from the government. Today the hospital has 15 beds for in-patient use, an ambulance, 24/7 out-patient service, pharmacy, x-ray, ecg and ultrasound, dental and eye care.
This year we partnered with the District Health Office to open a 24/7 birthing center in the village of Thambuchet. The DHO had constructed a new building, but could not fund the staff or equipment. The Mountain Fund took care of those needs. Today the center serves approximately approximately 8,000 people living in several of the poorest villages with the highest birth rates in the country.
We've just received permission from Nepal's Council for Technical Education & Vocational Training (CTVET) to expand the Kalika Community Hospital into a training center. The district needs approximately 75 more Community Health Assistants (CMA's) in order to provide everyone effective access to basic health services. Despite the CTVET requirement that training centers be based at hospitals with at least 50-beds, we have been granted an exception. At present, despite the CMA shortage, Tamangs are unable to acquire the training locally; they have to go to Kathmandu, where they face the hurdles of high costs and lack of accommodations. Few Tamang families are willing to let their daughters undertake this kind of displacement. Currently, with several staff vacancies in Rasuwa health posts, the government has been forced to recruit CMAs from distant regions of Nepal. Due to cultural and linguistic differences (Tamang is the primary language, not Nepali) many of these "outsiders" are uncomfortable. So, we have begun remodeling at Kalika Hospital to incorporate facilities for training and lodging. By the end of 2010, we hope to be ready to start educating young Tamangs to serve their own communities' needs.
The hospital and the two clinics we manage are accessible to the entire population of the district (45,0000 and also serve the residents of parts of adjacent Nuwakot district, which means we serve around 60,000 people. Our facilities are sited in central areas along major trails, meaning that residents of served villages are within a days' trek of a clinic or hospital, each of which actually treat about forty patients per week.
The Mountain Fund opened a volunteer program in Kathmandu three years ago. Last year we hosted over 100 volunteers from all over the world. This year we are on tract to host even more. We have three houses where we lodge and feed both the volunteers and also the full-time staff who supervise them. These volunteers have donated thousands of hours of service in local schools, orphanages, and Nepali NGOs.
Every year we host our Moving Medical Camps in the Rasuwa District. Last year, we did three camps and brought overe 40 western medical persons to the district in order to provide free health care and one-on-one training to our Nepali staff at the hospital and clinics. So far this year, we have thirty participants signed up for two camps, and a third camp is being scheduled for the fall. Participants enjoy trekking through the district, and we stop at the hospital and clinics for medical camp and training days. These programs bring special services and competences to the communities, as well as an economic boost.

For the past five years, The Mountain Fund has acted as a nonprofi incubator and "fiscal agent" for start-up NGOs and Nepali registered charities. We have provided a portal to several worthy NGO's who cannot otherwise raise money from the USA. At present, the Women's Foundation, Orchid Garden, Mount Everest Foundation, Social Development Center and several other Nepali NGOs are able to raise funds from US donors with our help. Our volunteers help them write grant proposals and fundraise as well. During this time we have helped to launch nonprofits in other countries around the world. Girl's Education International, The NorthEast India Projectg, The Gerrard McDonnel Memorial Fund, Anatoli Boukreev Memorial Fund, and Paradox Sports -- to name a few -- all began by operating under our 501-c3 charity status.

Our latest project is Punarbal Plus, the first school for HIV-affected children. Located in Kathmandu, the school has approximately 60 students, including 16 in a boarding program. These children are not accepted by government schools. The Mountain Fund is the primary source of funding, and we make it possible for the children to receive both primary education as well as medical management. The school is also working to educate the families and the community about HIV.
We've also established a micro-finance program in Cusco and we have been working for the past three years with the village of Upis at the base of Mount Ausangate to establish a community health clinic. The village has agreed to donate the land and adobe bricks needed to make a clinic building. We am still looking for funds to equip and staff the clinic.
Thanks for taking the time to find out about our work. For more information, please visit our Web site. I'd like to add that the Rasuwa Healthcare network (hospital and two clinics) costs under $1.00 per person per year for each of the 45,000 district inhabitants that are served. The Mountain Fund is a volunteer organization with no paid staff in our Albuquerque NM office. Nepali staff are of course paid at local standards. For me, it's a labor of love. I do it can be done and because it can be done for so little money.
Scott MacLennan
Albuquerque, New Mexico
March 11, 2010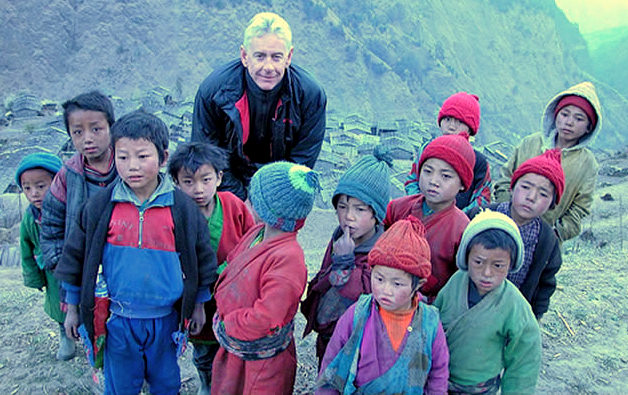 Scott MacLennan in Nepal. Photos courtesy of The Mountain Fund.