| | | |
| --- | --- | --- |
| | The Sir Edmund Hillary Mountain Legacy Medal | |
2008 Medalist: Anthony "Papa Tony" Freake
All Medalists

Schmitz & Hawley (2003)

Byers (2006)

MacLennan (2010)

Ang Rita (2011)

Bisht (2013)

Ives (2015)

Portocarrero (2017)

Royal Melbourne Institute of Technology University, Melbourne (Australia)
British national Mr. Anthony John Freake of Norfolk, England (UK), is the designated recipient of the 2008 Sir Edmund Hillary Mountain Legacy Medal for "remarkable service in conservation of culture and nature in remote mountainous regions." Tony Freake is the founder and director of the non-profit Phortse Community Project (PCP). The medal will be presented by Peter Hillary at a ceremony in Tengboche Monastery (Khumbu, Nepal) on May 29.
Phortse is a community of about 400 Sherpas in the Khumbu District of Nepal, perched on an isolated terrace approximately 3800 meters above sea level and about 15 km southwest of Mt. Everest. Papa Tony, as Mr Freake is known locally, visited Phortse for the first time in 1989. In 1992, Mr Freake undertook to build a house for the schoolteachers at Phortse, and since then his PCP has undertaken numerous development projects including a health clinic, hydroelectric plant and electricity supply system, Tibetan Buddhist monastery, youth club, drinking water supply system, multipurpose community building and educational scholarships.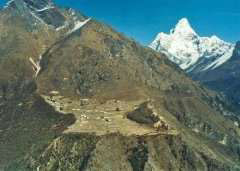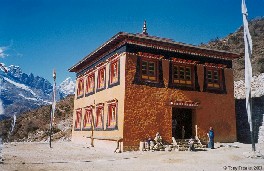 left: Phortse village; right: new Monastery at Phortse (click for larger image). Photos courtesy of T. Freake
In most of these projects, Eton College (Windsor, UK) has been a principal financial backer. In 1999 Mr Freake was able to mobilize not only a cohort of students from Eton College but also groups from Community Links (Canning Town, London) and Himalayan Hands (Derbyshire, UK), two non-profit organisations. Together they erected a new four-room schoolhouse that is a testament to the central importance of local education in preserving traditional communities. In great part, Mr Freake's success has been due to his ability to inspire others with the urgency of the task at hand. As he says, without such facilities, Phortse's children would have to leave home at an early age, contributing to the disruptive outmigration that threatens many remote communities.
According to Mr Freake, his projects in Phortse have been directly modeled on the philanthropic work of Sir Edmund Hillary.
For further information, or to find out how you can collaborate, contact Tony Freake at tony.freake@mypostoffice.co.uk.
Related links
All Medalists

Schmitz & Hawley (2003)

Byers (2006)

MacLennan (2010)

Ang Rita (2011)

Bisht (2013)

Ives (2015)

Portocarrero (2017)