| | | |
| --- | --- | --- |
| | The Sir Edmund Hillary Mountain Legacy Medal | |
Update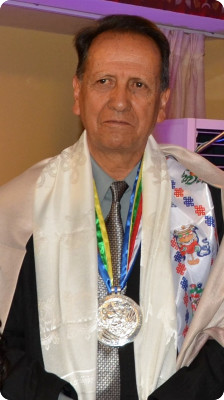 December 11, 2016 (International Mountain Day) The 2017 Sir Edmund Hillary Mountain Legacy Medal was presented to Peruvian engineer César A. Portocarrero Rodríguez at the Hotel Tibet International in Boudhanath, Kathmandu.
October 15, 2016 Hillary Model, Hillary Medal, an 87-page article by Dr. Seth Sicroff, explores the originality of the development assistance model established by Sir Edmund Hillary, and the relation between that model and the selection of recipients of the Sir Edmund Hillary Mountain Legacy Medal.
The article appears in Jack D. Ives, Montologist: Festschrift for a Mountain Advocate, recently published by the Himalayan Association for the Advancement of Sciences (HimAAS). The volume is available on Amazon.com.
April 17, 2016
Nominations for 2018 SEHML Medal now open
The 2018 Medal will be presented in Kathmandu on December 11, 2017. For information, see our Nominations page.
The Board of Directors of Mountain Legacy has ruled that future Medals will be presented in Nepal on International Mountain Day (Dec. 11). Applicants must be willing to participate in the presentation event should they be selected. More information about the upcoming event will be available soon.
Hillary Medal Sponsors and Collaborators

Home

Nominations

Background

Medalists

Mountain Legacy

Collaborate

Sitemap

Contact
Please Support the Sir Edmund Hillary Mountain Legacy Medal