| | | |
| --- | --- | --- |
| | The Sir Edmund Hillary Mountain Legacy Medal | |
2003 Medalists: Schmitz and Cawley
All Medalists

2003 Presentation

Byers (2006)

Freake (2008)

MacLennan (2010)

Ang Rita (2011)

Bisht (2013)

Ives (2015)

Portocarrero (2017)
May 2003, Tengboche (Khumbu, Nepal) The winners of the first Hillary Medal are Michael Schmitz and Helen Cawley, a husband and wife team who for the past decade have been working on keystone cultural and ecological projects in the Solu-Khumbu districts of Nepal. These include the reconstruction and renovation of Tengboche and Tupten Choling monasteries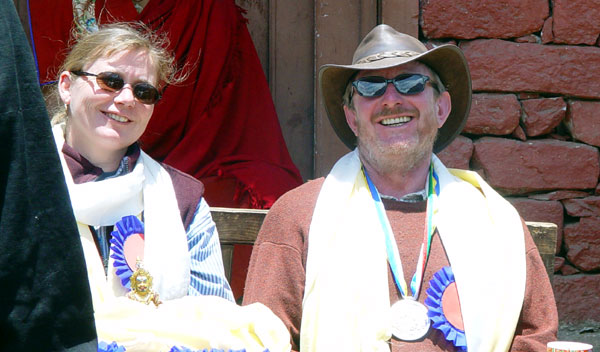 Tengboche Reconstruction Project
Tengboche Monastery is the spiritual heart of the Sherpa homeland. In 1989 it was destroyed by fire and the main structure was subsequently rebuilt.
After the inauguration of the newly built monastery in 1994, at the request of the Abbot and the of the Nepalese government Schmitz undertook a survey to assess the needs of Tengboche in the face of ever increasing pressure from huge numbers of tourists. Problems were discussed with the abbot, monks, local people, lodge keepers, the police, Sagarmatha National Park personnel, trekking agencies, tourists and porters. The Tengboche Development Master Plan has been the basis for subsequent fund raising and work undertaken in the area by Michael Schmitz and Helen Cawley.
Among the projects undertaken and completed are:
Clean Drinking Water A frost-free and safe supply of drinking water has been provided by pumping the water 150 meters uphill from Devoche, just north of Tengboche.
Sanitary facilities in Tengboche Ten new toilets have bben built and the use of unsightly toilet tents has been banned.
Telephone Satellite Station An satellite telephone system provides communication and security (a helicopter can be summoned for rescue and evacuation).
School Facilities Three classrooms have been built, including a library with over 3000 books. A school has been opened, and an instructor and a kenpo (professor) are being paid. Clothing and emergency assistance for poor students are given. The number of students has grown from 9 to 35.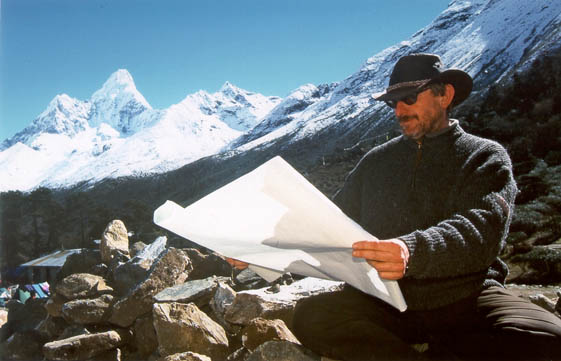 Schmitz reviewing engineering plans at Tengboche
Porter's Lodge The main tourist season is in winter and extremly cold. Porters needed accommodation facilities and easier water access. The village donated US$ 2,000.- for the simple porter's accommodation.
Pension and Emergency Fund A pension and emergency fund for monks has been established through the income of the Eco-Center in Tengboche.
Monks' Accommodation A housing scheme for 18 monks designed in the shape of an open and yet protecting wall for the inner area of the monastery has been undertaken undertaken. 12 monks have moved already into their rooms. A traditional gate and two large prayer wheels houses have been incorporated into the wall.
Reforestation and Forest Protection Around 1000 trees were planted behind the Tengboche Monastery and a plantation program has been initiated along the rivers at Tengboche. A protective fence has been raised. Previously every monk cooked for himself using a massive amount of firewood. The Tengboche Monastery and Devoche Nunnery kitchens provide a free warm meal per day. Furthermore, plans are underway to declare Tengboche a Firewood Free Area, through the only use of alternative cooking and heating material (Gas and Kerosine) and solar systems.
The Tengboche Ecological Center The Tengboche Eco-Centre and "Sacred Land Initiatives" guarantee an income for the monastery and make the Tengboche Project as well as the monastery sustainable. The film Sacred Land about Tengboche, the monastery, mountains and tourists shows how a spiritual view can complement natural beauty and how sustainable tourism can bring practical benefits to the people. This film is shown to tourists in Tengboche at the Eco-Center; to date over 8000 visitors have seen the film. In addition there is an exhibition of 27 large display panels with information about Buddhism and ecology. In the Sacred Land Shop one can buy music CDs, T-shirts, devotional objects, prayer garlands, silk scarves said to bring good luck, medicinal tea, Sherpa arts and crafts and other meaningful souvenirs.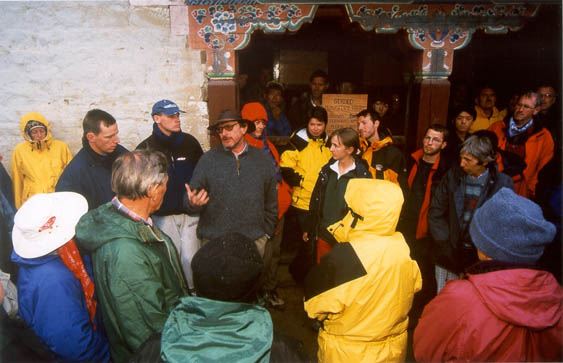 Michael Schmitz leading tour at Tengboche Monastery
Tibetan Traditional Clinic and Pharmacy in Namche A clinic with a doctor (amchi)qualified in Tibetan Medicine has been opened in Namche Bazaar; free treatment and medicine is given to poor people. A new medical center with exhibition on the Tibetan Medical System will be constructed next year.
High Altitude Medical Plantation A garden has been established in Techo (on the way to Thame)to preserve endangered Himalayan medical plants and to create an alternative source of income to counterbalance the regional dependency on tourism. Presently, the destitute nuns of Khare Monastery are working at the plantation. Products include medicinal teas, and incense sticks for ceremonial and health purposes.
Thubten Choling
Since 2001, Schmitz and Cawley have been working on the Thubten Choling Monastery Development Project near Junbesi at the request of His Holiness Trulshik Rinpoche, one of the teachers of the Dalai Lama. This monastery houses more than 300 monks who sought refuge there after fleeing Chinese oppression in Tibet. The project entails construction of a new large prayer hall, kitchen, dining hall, classrooms, printing press, libary, water system, toilets and hydo-power station. The project is expected to be competed in 2004.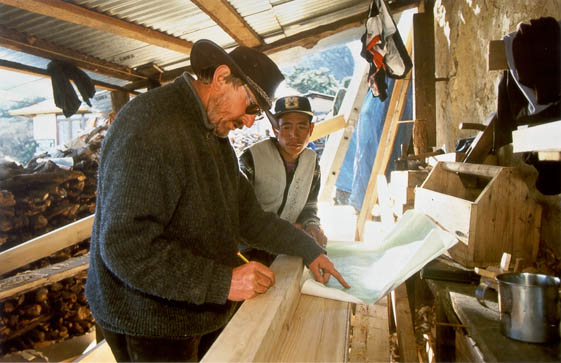 Michael Schmitz at Thubten Choling

High on the agenda for Schmitz and Cawley is a proposed Sherpa Boarding School, located in the Khumbu, with instruction in Sherpa and courses on Sherpa and Tibetan culture. This is seen as a high priority, in order to counter brain drain that has occurred as many parents send their children to Kathmandu boarding schools, where they effectively become assimilated into Nepali culture and lose their mountain roots.
Related links