| | | |
| --- | --- | --- |
| | The Sir Edmund Hillary Mountain Legacy Medal | |
2006 Medalist: Dr. Alton C. Byers
All Medalists

Schmitz & Hawley (2003)

Freake (2008)

MacLennan (2010)

Ang Rita (2011)

Bisht (2013)

Ives (2015)

Portocarrero (2017)
[Royal Melbourne Institute of Technology University, Melbourne (Australia)] Dr. Alton C. Byers has been awarded the 2006 Sir Edmund Hillary Mountain Legacy Medal.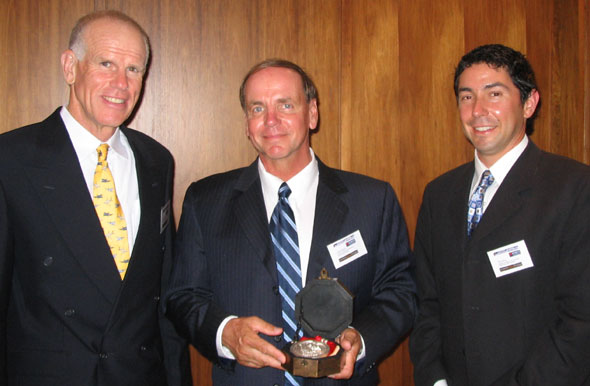 From left to right, Peter Hillary, Alton Byers, Beau Beza
Dr. Byers is the Director of Research and Education at The Mountain Institute based in Elkins, West Virginia, and has a long and distinguished career specialising in integrated conservation and development programmes, applied research and the establishment of mountain-based educational courses and materials.
From 1993 to 1994 Byers worked with local residents and the government of Nepal to establish the Makalu-Barun National Park and Conservation Area. From 1994 to 1996 he worked as founder and director of Andean Programs in the Huascaran National Park, Peru, and then directed the Appalachian Program and 400-acre Spruce Knob Mountain Center in West Virginia between 1998 and 2000, initiating conservation, teacher training, and community-based projects.
Dr. Byers has been a strong advocate of an approach incorporating applied research results into the design and implementation of conservation and community development programmes. This stems from his earlier research undertakings in Nepal, where he demonstrated that the lack of such an approach and absence of reliable information had led to misunderstandings regarding human impact on the environment. These misunderstandings resulted in scarce funds being applied to perceived problems that had the appearance of political correctness while real problems in the same general vicinity were overlooked. One prime example was the assumption that trekkers, mountaineers and the local Sherpas were responsible for major deforestation verging on catastrophe. Dr. Byers demonstrated not only that this conclusion was based on false assumptions and political expediency but also that it had diverted attention from critical environmental damage that was occurring in the alpine meadow and subalpine ecosystems.
Byers went on to launch the Community-Based Conservation and Restoration of the Everest Alpine Zone Project with support from the American Alpine Club and the National Geographic Society. This has now become a Sherpa-directed project aimed at protecting and restoring the Khumbu's fragile alpine ecosystems from unregulated adventure tourism.
Related links