| | | |
| --- | --- | --- |
| | The Sir Edmund Hillary Mountain Legacy Medal | |
All Medalists

2015 Presentation

Schmitz & Hawley (2003)

Byers (2006)

Freake (2008)

MacLennan (2010)

Ang Rita (2011)

Bisht (2013)

Portocarrero (2017)

Presentation of 2015 "Lifetime Achievement" edition of the Hillary Medal
October 29, 2015: In a ceremony in Ottawa, Nepalese ambassador to Canada His Excellency Mr. Kali Prasad Pokhrel and New Zealand High Commissioner His Excellency Mr. Simon Tucker have jointly presented Dr. Jack D. Ives with the "Lifetime Achievement" edition of the Sir Edmund Hillary Mountain Legacy Medal. Ives is a world-renowned montologist and Adjunct Professor of Geography and Environmental Studies at Carleton University (Ottawa).
His Excellency Kali Prasad Pokhrel, ambassador of Nepal to Canada, and His Excellency Simon Tucker, New Zealand High Commissioner to Canada, congratulate Dr. Jack D. Ives on receiving the Sir Edmund Hillary Mountain Legacy Medal. Second and third photos below are courtesy of Embassy Magazine.
Click on the photos below to display larger images.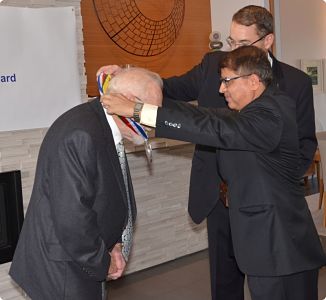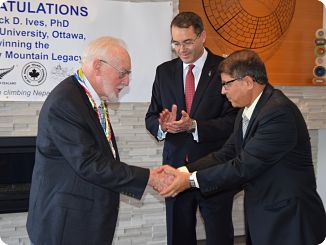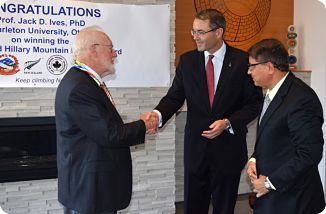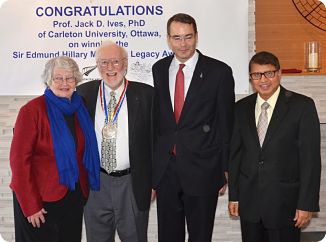 Montology is the interdisciplinary study of all aspects of mountains, including highland-lowland linkages, and focuses particularly on mitigating and managing disasters, improving stewardship of mountain ecosystems, and sustaining mountain livelihoods and culture.
The New Zealand and Nepalese diplomats both congratulated Dr. Ives on the award and emphasized his contributions, particularly in drawing international attention to the fact that all humanity is critically dependent on mountains in both positive and negative ways: as sources of fresh water, biodiversity, spiritual inspiration, and recreation, but also as generators of hazards that impact both highlands and adjacent lowlands. Thanks in great part to Dr. Ives' advocacy, funding for scientific and development efforts in mountainous areas has increased exponentially over the past forty years.
Dr. Kumar P. Mainali, research professor at the University of Maryland and president of Mountain Legacy, released a statement explaining that the award is presented "for remarkable service in the conservation of culture and nature in mountainous regions. The medal both recognizes Sir Edmund Hillary's own service on behalf of mountain people and their environment and also encourages the continuing emulation of his example."
In remarks on behalf of Mountain Legacy, Projects Coordinator Dr. Seth Sicroff spoke about the Hillary Model of humanitarian and development assistance that is the basis of the rationale for the Medal.
Assistance and Adventure
"The Hillary Model of humanitarian development assistance is multifaceted," Sicroff noted, "and it is open to a range of emulatory efforts."

"Zeke O'Connor, close collaborator of Sir Edmund and founder of the Sir Edmund Hillary Foundation of Canada, stressed three elements of Hillary's modus operandi: asking locally (as opposed to top-down interference), getting sweat equity (i.e. securing local buy-in, at least labor, for all infrastructure projects) and long-term involvement.

"I believe that a key element of the Hillary Model has always been adventure. Sir Edmund went to Nepal to climb, and he undertook his assistance projects as logistical adventures in their own right. For both Sir Edmund and his son Peter, the physical and mental challenge of adventure is a fundamental need hardwired into the human spirit, increasingly rare in this tamed and shrunken world, but increasingly important. Humanitarian service and adventure, particularly in the world's most awe-inspiring landscapes, can give meaning to an otherwise pedestrian existence.

"While Sir Edmund's development focus was largely at the grass-roots level, the problems faced by mountain communities and ecosystems have shifted in the past decades. A disaster like the recent earthquakes in Nepal, New Zealand, and Chile can cause long-term damage to regional, community, and family economies. We clearly need better policies, more effective response, and more accurate science to predict needs, implement mitigation efforts, and carry out rescue and recovery.

"This is where Jack has served. His career is a shining example of long-term adventure and long-term service in the mountains of the world. He has put mountains and mountain peoples front and center in the environmental movement and in efforts to ensure gender equity and respect for cultural traditions in mountainous regions. He has brought science to stewardship and insisted they serve local communities first.

"It would be difficult to overstate Jack Ives' impact. His career as scientist, educator and activist are to the highest extent worthy of the Sir Edmund Hillary Mountain Legacy Medal."
A Career Combining Adventure and Service
In the course of informal discussions over lunch, Dr. Ives recounted some of the adventures that had led him to a career in geomorphology, and later montology. "It may surprise you that a career in the highest mountains of the world might have come to one who was born in Grimsby, a Lincolnshire fishing port where the highest elevation is scarcely 100 meters above the North Sea. The initial impetus came when, as a lad of fifteen, I signed on with two trawler voyages, to Svalbard, Norway, and the Barents Sea. The mountains, glaciers and arctic pack ice swept me off my feet.
"A few years later, as an undergraduate at Nottingham University, I was organizing expeditions to Arctic Norway and Iceland to study glacier dynamics. These adventures led to opportunities with the McGill Sub-Arctic Research Laboratory, to friendships and collaborations with Carl Troll, Bruno Messerli, and others, and soon I was deeply involved in global issues of environmental research and development. There have been tragedies, and unexpected victories, and even an encounter with armed bandits in Sikkim. In fact, it's all been one remarkable adventure."
Asked what adventures lay ahead, Dr. Ives referred to the global efforts to counter climate change, as well as the new attention to jökulhlaups, or glacial lake outburst floods (GLOFs). "In terms of concrete advocacy," Dr. Ives noted, "I would like very much to see a global collaboration, perhaps led by New Zealand and Nepal, to establish a Disaster Management University in Kathmandu."
Proposal for Disaster Management University (DMU)
Dr. Ives quickly sketched a proposal for a new type of academic institution: one based on a real-world problem rather than a preconceived discipline. "First of all, a well-funded research university would bring together scholars in the broad array of disciplines (engineering, economics, geomorphology, epidemiology, social psychology, and so on) to study the extremely complex causes, public policies, mitigation and recovery strategies that are involved in a wide range of crises, including earthquake, volcanic eruption, climate extremes, glacial outburst floods, and armed conflict.
Secondly, there are important advantages to locating this institution in Kathmandu. Many types of disasters are unlikely or rare enough that you cannot predict where they would occur; it wouldn't even make sense to design an academic career specifically to prepare for events such as asteroid collision, tsunami, nuclear terrorism, bird flu, and super-volcano eruption. However, even though these phenomena may seem to pertain to disparate fields, they have important strategic points in common, particularly rescue and evacuation. And these points in common are typical of the many disastrous phenomena that regularly occur in the extremely dynamic environments of the Himalayan and other mountain regions. Placing a Disaster Management University at a Himalayan gateway like Kathmandu would virtually ensure that participants will witness either full-fledged disasters or their downstream impact. It also guarantees that they will have the opportunity to examine numerous situations and consider many scenarios that pose or seem to pose risks that might rise to the level of disaster.

Beside instruction, the DMU could undertake a role in evaluating predictions. As I have pointed out in Himalayan Dilemma: Reconciling development and conservation and in Sustainable Mountain Development: Getting the Facts Right, the costs of incorrect predictions (or exaggerated alarms) can be enormous: wasted infrastructure, unnecessary evacuation, inaccurate vilification of vulnerable communities, blockading of tourist destinations. Nepal has long been the victim of inaccurate hazard assessments and travel advisories from many official sources; the conservative tendencies of uninformed and insouciant bureaucrats have resulted in advisories that effectively inhibited student exchange programs. An established and respected institution could substitute careful scientific assessments for the sensational scenarios of journalists and the sugar-coated projections of infrastructure developers.

"Kathmandu has the further advantage that it already accommodates many agencies and institutions focused on mountain research and development. A number of researchers currently associated with ICIMOD, for example, would be likely candidates for positions in the DMU.

"Kathmandu also has an excellent potential site for the Disaster Management University: the former royal Narayanhiti Palace, which is now conspicuously under-utilized as a museum. That function could continue within the campus of a new university, a reminder that political instability can constitute a significant disaster.

"It remains to be emphasized that study abroad is one of the most advantageous forms of tourism for developing nations. Students stay for long periods, develop lifelong commitments to the study country, bring important expertise and attract foreign currency. An international institute could serve as a teaching college for local institutions, helping to build their capacity to serve the local populace as well as their own international students."
Dr. Ives pointed out that some of the work he envisioned being spear-headed by the Disaster Management University is already being undertaken by various agencies and researchers. "Alton Byers, the 2006 Hillary Medalist, has been doing brilliant work on potential GLOF sites in the Khumbu, notably Imja Lake, collaborating with Sherpa communities, and tracking changes over a period of years now. This kind of work needs to be shared broadly with students who will set up similar efforts in other ranges and continue to develop monitoring and assessment protocols."
Keep Climbing Nepal!
Regarding the recent earthquakes in Nepal, Dr. Ives praised the efforts of the Peter Hillary and the Nepal embassy to revive tourism. "In the absence of objective scientific assessment of the situation after such events, it is absolutely imperative to have trusted personalities convey their ground-truthed assurances. Faced with ongoing reports of occasional aftershocks, and contradictory claims by travel experts with a vested interest, I strongly value the advice of a spokesman with Peter Hillary's sterling reputation."

Full text of Acceptance Remarks by Dr. Jack D. Ives
I am very proud to be awarded such a great honour. And as it bears the name of one of my greatest youthful heroes whose later life's work has inspired my own, it has immense personal impact.
But all such recognition is based on the assistance and support of many others. As I have just passed my 84th birthday, so there are very many who fall into that category and who own a share in this medal. However, there is one man, Ragnar Stefansson, a now deceased Icelandic sheep farmer, who became a virtual second father, and through him I became bound to Iceland, so that I am delighted that His Excellency Sturla Sigurjónsson has honoured me by his presence today.
In conclusion, several special acknowledgements must be recorded:
Pauline Ives, life partner, colleague in sometimes arduous Arctic territory, mother of our four children, and sometime critic;
Peter Hillary; Dr. Kumar P. Mainali, President of Mountain Legacy; Dr. Beau Beza, Chair of the Hillary Medal Selection Committee; Dr. Seth Sicroff, Projects Coordinator for Mountain Legacy; and the other officers and members of Mountain Legacy;
Professor Roger G. Barry and Professor Bruno Messerli;
Mr. Zeke O'Connor, Founder and Executive Director of the Sir Edmund Hillary Foundation of Canada, and Ms Karen O'Connor, President of the SEHF;
Ms Sue Badyari, CEO, and Ms Nathalie Gauthier, North American manager for World Expeditions.
Finally, I must recognize the humble people of the world's mountains, and especially those of Nepal. They welcomed me into their homes, shared their food, joys and sorrows, and taught me so much. To this extent the slogan that Pauline and I developed in 1980 for our new journal, Mountain Research and Development is worthy of record:
To strive for a better balance between mountain environment, development of resources, and the well-being of mountain peoples
I am also grateful to His Excellency, Simon Tucker, Policy Advisor Iain Wood, and all the staff of the New Zealand High Commission, as well as to His Excellency, Kali Prasad Pokhrel, Ambassador of Nepal, without whose commitment we would not be here today.
Many thanks to all of you.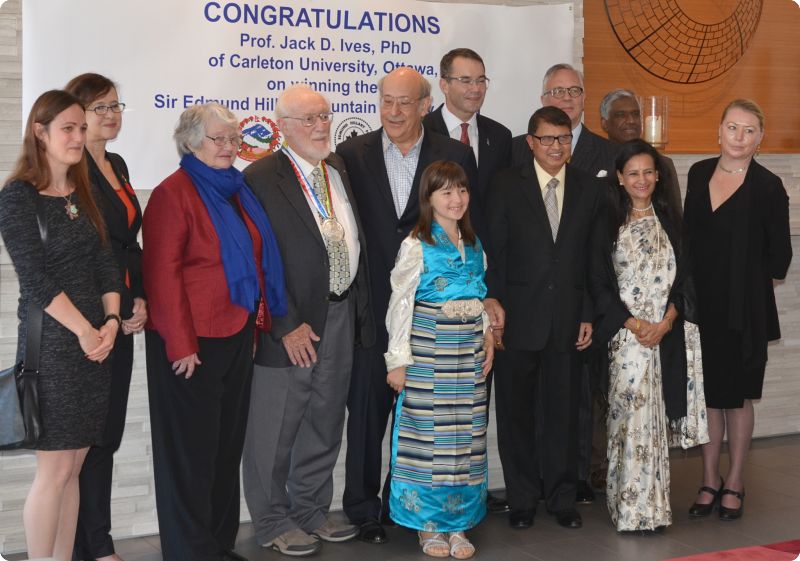 From left to right: Nathalie Gautier (World Expeditions manager for North America), Susan Gregson (Assistant Deputy Minister for Asia Pacific, Department of Foreign Affairs, Trade and Development, Canada), Pauline Ives, Jack Ives, Seth Sicroff (Projects Coordinator for Mountain Legacy), Liana Sicroff, His Excellency Simon David Lambert Tucker (High Commissioner of New Zealand), His Excellency Kali Prasad Pokhrel (ambassador of Nepal), His Excellency Sturla Sigurjónsson (Icelandic ambassador), Dr. Nimal Rajapakse (Vice-President, Research and International, Carleton University), Kamala Pokhrel, Penny Tucker